SoundTouch® 520 home theatre system
True surround sound for movies, TV and wireless music
Binge-watching a new series. Catching up on your movie watch list. Streaming the latest music. Your home is your entertainment center. And so much of it relies on sound. The SoundTouch® 520 home theatre system delivers true surround sound from five small speakers and a wireless bass module. It's also a powerful music system, letting you easily enjoy wireless music when connected to your existing home Wi-Fi® network or Bluetooth® devices.
True 5.1 surround sound from five slim-profile speakers
Small control console with 4 HDMI™ inputs ensures the highest-quality sound from your components
Wirelessly play music services like Spotify and Deezer, Internet radio stations and your stored music library
Customises sound to fit your room for a consistent, high-quality performance
Bluetooth® technology is built in, so you can stream any music from any Bluetooth® device
Enter a circle of sound
You're engrossed in a cat-and-mouse thriller. A sudden movement over your shoulder startles the character onscreen who dashes toward you in pursuit, disappearing as the sound of footsteps trail off behind you. You're "in" the movie, and your entire living room becomes the set.

Welcome to Bose® surround sound, brought to you by five redesigned Direct/Reflecting® speakers. The precisely angled transducers inside deliver sound you'd expect from speakers many times their size.
Exploring music with SoundTouch®
With SoundTouch®, you can discover and enjoy music more effortlessly than ever before. Wirelessly stream millions of songs through Spotify and Deezer, as well as Internet radio stations and your own music library. A powerful app lets you control your music from anywhere in the house with your phone or tablet. And six easily programmable presets let you play your favourite music from the app or the included universal infrared red remote.

The SoundTouch® 520 system is also part of an entire family of wireless products. They all work together to play the same music in every room, or different music in different rooms.
Penetrating bass
The wireless module adds dramatic low notes to your entertainment—without adding a wired connection from the module to the speakers or console. With a signal range of 9 m, you can place it pretty much anywhere in the room. Even if hidden from view, you'll notice the extra level of realism it provides, from a throbbing bass guitar to a thunderstorm you can actually feel.
Sound designed for your room
Wood floors, plush rugs, unique room dimensions. Believe it or not, they can all affect sound. That's where the ADAPTiQ® audio calibration system comes in. It adjusts the speaker's performance to the acoustics of your room, so you don't have to change a thing. Once you've placed your speaker, just run the ADAPTiQ® system and enjoy consistent performance throughout the room from then on.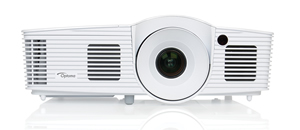 Super-sized home entertainment
Bright vivid colors – 3,200 ANSI lumens
Full HD 1080p image quality
Dynamic black technology - 25,000:1 contrast ratio
Easy connectivity - 2x HDMI and MHL support and built-in 10W speaker
Super-sized home entertainment

Created for super-sized 1080p home entertainment, the bright HD26 is perfect for watching TV shows, sports and movies or playing action-packed games on a huge screen.

With a built-in speaker and two HDMI inputs the HD26 is easy to setup and use. Turn it into a smart projector by connecting your smartphone or tablet using MHL; now you can play games, stream videos and share photos on the big screen.
Full HD 1080p
1080p resolution gives you sharp and detailed images from HD content without downscaling or compression; perfect for watching Blu-ray movies, HD broadcasting and playing video games.

Full 3D
Optoma projectors can display true 3D content from almost any 3D source, including 3D Blu-ray players, 3D broadcasting and the latest generation games consoles. Support for 144Hz rapid refresh rate provides ultra-smooth flicker free images.

Gaming Mode
Gaming Mode optimizes your projector for lightning response times, maximum contrast and vivid colors to capture every detail - leaving you time to focus on winning.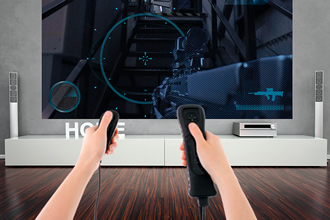 Turn your projector into a smart display by connecting your smartphone or tablet with a single cable using MHL; now you can play games,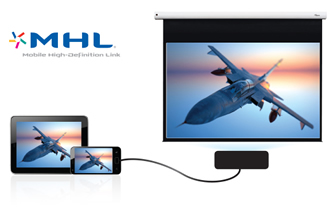 stream vi
deos and share photos on the big screen.
HDMI Link
HDMI link lets you to turn on and off two or more HDMI-CEC capable devices using a single remote control.

Dynamic Black
This feature gives more depth to your image by smoothly adjusting the lamp output, based on the brightness information of each frame; to create a stunning high contrast ratio. Bright scenes appear crisp and clear, while dark scenes remain detailed with deep blacks and exceptional light and shade detail.

24p
Most movies are shot at 24 frames per second (fps). To preserve the purity of the original image, Optoma projectors can accept high definition sources at 24 fps to display movies exactly as the director intended.
Amazing Colors
For vibrant, natural looking images, Optoma projectors incorporate BrilliantColor™ multi-color processing technology.

Integrated Speaker
Complete your home entertainment experience with the convenience of a powerful built-in speaker. Built-in speakers provide exceptional sound quality and are easy to set up without the need for costly external speakers.
Long Lamp Life
The expected lifetime of a typical Optoma projector lamp is an impressive 6500 hours; so if you watch a two hour movie every day, the lamp should last for almost 9 years.
1Lamp based projectors brightness and lifetime will vary depending on selected projector mode, environmental conditions and usage. As is common with all lamp based projectors, brightness will decrease over the lamp lifetime. LED projectors do not have a replaceable lamp and the brightness does not decay significantly over the product lifetime.
2Typical lamp life achieved through testing. Will vary according to operational use and environmental conditions
109" Manual Pull Down Screen
Ambertec Cyber Manual Pull Down Screen
Ambertec's manual pull-down system with self-lock allows the screen to positioned at any desired point with virtually no limitations. With this design, when the screen is retracted into the casing there are no springs or pressure points. This prevents the screen from having any unneeded stress points which cause wrinkles. With this feature all Ambertec screens are wrinkle free.
Featuring black sidings to preserve image quality along with good gain, contrast and dispersion qualities, the WM-P92 is an excellent lost cost, convenient screen solution.